In News
The '3-3-3' puzzle
BRICS Summit '2017
Antimicrobial resistance (AMR) in  India
'special provisions' for states in Indian Constitution
---
The '3-3-3' puzzle
We are in the midst of an unprecedented and alarming widening of income gaps amongst Indian states. The '3-3-3' puzzle is a theory that the three richest states in India are three times as rich as the three poorest states
The three richest states are three times as rich as the three poorest states. It is a puzzle because orthodox economic theory predicts that contiguous economic units which are knitted together by movements of trade and people ought to exhibit convergence, not divergence.
India's states constitute a federal economic union characterized by—finally, after the goods and services tax (GST)—harmonized taxes and free trade among states
the data show not only widening income gaps amongst major states, but within those same states: State-level governance differences cannot account for this.
The most plausible explanation for this pattern of widening divergence is the model of economic development itself, characterized by initial income gaps becoming locked in through economies of scale, network externalities, and agglomeration economies.
Economic policy interventions such as "place-based" economic policy is required to close this gap. For instance, computing reliable state-level consumer price indices, using local weights in the basket and local prices, rather than relying solely on a national average and broad aggregates such as urban and rural, would be a very good starting point for exploring the differential regional impacts of pursuing a national inflation target mandate.
References
http://www.livemint.com/Opinion/ctuQdKDhgQNqGAbo6yJFyN/The-333-puzzle-and-what-to-do-about-it.html
---
BRICS Summit '2017
The 9th Brics (Brazil, Russia, India, China and South Africa) summit recently concluded in Xiamen,China was titled "Brics: Stronger Partnership for a Brighter Future" summit.
Promising initiatives

Sustainable development in Africa, promoting green development and low-carbon economy, a no first placement of weapons in outer space, and a Brics Remote Sensing Satellite Constellation
Internal contradictions

Countries like India, Brazil, and South Africa (Ibsa) cannot uphold world peace without being part of the global peace and security decision-making process centred in the UN Security Council (UNSC)
The absence of regular consultations between the two Brics members on the UNSC and the three aspirants to it reveals that China and Russia merely want the support of the Ibsa countries for the positions the duo take in the council without providing the Ibsa members a voice, let alone push for their permanent membership.
The call for "upholding a fair and equitable international order based on the central role of the United Nations… and respect for international law" sounds hollow, especially given host China's disregard for the Law of the Sea Convention and its cursory dismissal of the ruling of the Permanent Court of Arbitration in The Hague on the South China Sea dispute.
While there is a call for promoting nuclear energy and "predictability in accessing technology and finance for expansion of civil nuclear energy capacity", any such efforts are likely to be ineffective until China supports India's entry into the Nuclear Suppliers Group (NSG).  India is the only Brics country which is still not a member of the NSG on account of China's obstinacy
Despite BRICS declaration listing several terrorist organizations, including the Taliban, Islamic State and Jaish-e-Mohammad, China is unlikely to retract its technical hold on designating Masood Azhar, the Jaish-e-Mohammad chief, as a terrorist at the UN
For a group with two UNSC members, the declaration offers no initiatives that China and Russia or the BRICS might collectively undertake to break the nuclear tension on the Korean peninsula.
Reference
http://www.livemint.com/Opinion/I3U8elehCK2LXv4ZzRygdO/BRICS-From-a-big-bang-to-a-whimper.html
---
Antimicrobial resistance (AMR) in  India
CARB-X, or Combating Antibiotic Resistant Bacteria Biopharmaceutical Accelerator, is a public-private international partnership, which was set up in 2016 to focus on innovations to improve diagnosis and treatment of drug-resistant infections. The partnership provides a new, collaborative approach to speed research, development and delivery of new antibiotics, vaccines, diagnostics, and other innovative products to address the urgent global problem of drug-resistant bacterial infections
Antibiotic resistance has become a global crisis due to the indiscriminate use of antibiotics, including against viral infections, especially in countries like India where they are commonly available over the counter; their prolonged use in patients admitted to hospitals; and their abuse in animal husbandry as growth promoters. In hospital critical care units, more than 50% organisms are now resistant even to these drugs.
Some 700,000 people die of resistant infections every year globally( estimated to rise to 10 million by 2050.)
Bacteria are classified as Gram-positive and Gram-negative, based on a structural difference in their cell walls that is detectable through a staining technique developed by Hans Christian Gram. Gram-negative bacteria are responsible for 20-25% of infections, and are multi drug resistant — which is the ability of bacteria to defend themselves against drugs that try to kill them.
"In the recent past, no new antibiotics have been approved for clinical use. The development of new antimicrobial agents would reduce the ever-increasing gap between rising antimicrobial resistance and declining rates of the discovery of new agents
The need of the day is programmes to implement the control measures empowered by administrative control and legislative binding on every user of antibiotics,
India's significance

Because of its sheer numbers, poor literacy and awareness, and lax controls over medical practices, India is on the frontlines of the global AMR public health crisis
An Indian company, Bangalore-based Bugworks Research, has received an Initial fund of $ 2.6 million CARB-X grant  for its work on a new class of antibiotics to fight what is known as the "ESKAPE" group of pathogens (Enterococcus faecium, Staphylococcus aureus, Klebsiella pneumoniae, Acinetobacter baumannii, Pseudomonas aeruginosa, and Enterobacter species).

National Surveillance System for AMR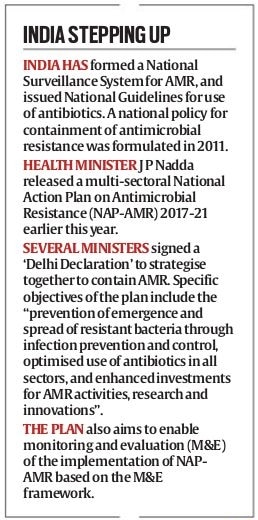 Reference
Why infections picked up in hospitals are the big threat today, how world is trying to cope
---
'Special provisions' for states in Indian Constitution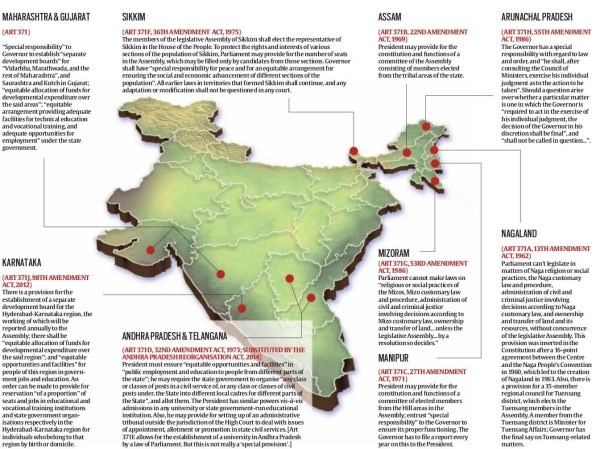 Jammu & Kashmir
Art 35A, which empowered the J&K Constitution to define "permanent residents" of the state, is an offshoot of Art 370 of the Indian Constitution. It was added to the Constitution through The Constitution (Application to Jammu and Kashmir) Order, 1954, issued by the President under Art 370.
One important difference between Articles 370 and 371, and Articles 371A-H and 371J which deal with other special category states, is that while the latter set of provisions were incorporated into the Constitution by Parliament through amendments under Art 368 (which lays down the "power of Parliament to amend the Constitution and procedure therefor"), Articles 370 and 371 have been part of the Constitution from the time of its commencement on January 26, 1950.
MAHARASHTRA & GUJARAT (Art 371)
"Special responsibility" to Governor to establish "separate development boards" for "Vidarbha, Marathwada, and the rest of Maharashtra", and Saurashtra and Kutch in Gujarat;
"equitable allocation of funds for developmental expenditure over the said areas";
"Equitable arrangement providing adequate facilities for technical education and vocational training, and adequate opportunities for employment" under the state government.
SIKKIM (Art 371F, 36th Amendment Act, 1975)
The members of the legislative Assembly of Sikkim shall elect the representative of Sikkim in the House of the People.
To protect the rights and interests of various sections of the population of Sikkim, Parliament may provide for the number of seats in the Assembly, which may be filled only by candidates from those sections.
Governor shall have "special responsibility for peace and for an equitable arrangement for ensuring the social and economic advancement of different sections of the population".
All earlier laws in territories that formed Sikkim shall continue, and any adaptation or modification shall not be questioned in any court.
ASSAM
(Art 371B, 22nd Amendment Act, 1969)
President may provide for the constitution and functions of a committee of the Assembly consisting of members elected from the tribal areas of the state.
ARUNACHAL PRADESH
(Art 371H, 55th Amendment Act, 1986)
The Governor has a special responsibility with regard to law and order, and "he shall, after consulting the Council of Ministers, exercise his individual judgment as to the action to be taken".
Should a question arise over whether a particular matter is one in which the Governor is "required to act in the exercise of his individual judgment, the decision of the Governor in his discretion shall be final", and "shall not be called in question…".
NAGALAND
(Art 371A, 13th Amendment Act, 1962)
Parliament can't legislate in matters of Naga religion or social practices, the Naga customary law and procedure, administration of civil and criminal justice involving decisions according to Naga customary law, and ownership and transfer of land and its resources, without concurrence of the legislative Assembly.
This provision was inserted in the Constitution after a 16-point agreement between the Centre and the Naga People's Convention in 1960, which led to the creation of Nagaland in 1963.
There is a provision for a 35-member regional council for Tuensang district, which elects the Tuensang members in the Assembly. A member from the Tuensang district is Minister for Tuensang Affairs; Governor has the final say on Tuensang-related matters.
MIZORAM
(Art 371G, 53rd Amendment Act, 1986)
Parliament cannot make laws on "religious or social practices of the Mizos, Mizo customary law and procedure, administration of civil and criminal justice involving decisions according to Mizo customary law, ownership and transfer of land… unless the Legislative Assembly… by a resolution so decides."
MANIPUR
(Art 371C, 27th Amendment Act, 1971)
President may provide for the constitution and functions of a committee of elected members from the Hill areas in the Assembly;
Entrust "special responsibility" to the Governor to ensure its proper functioning.
The Governor has to file a report every year on this to the President.
ANDHRA PRADESH & TELANGANA
(Art 371D, 32nd Amendment Act, 1973; substituted by the Andhra Pradesh Reorganisation Act, 2014)
President must ensure "equitable opportunities and facilities" in "public employment and education to people from different parts of the state";
he may require the state government to organise "any class or classes of posts in a civil service of, or any class or classes of civil posts under, the State into different local cadres for different parts of the State", and allot them.
The President has similar powers vis-à-vis admissions in any university or state government-run educational institution. Also, he may provide for setting up of an administrative tribunal outside the jurisdiction of the High Court to deal with issues of appointment, allotment or promotion in state civil services. [Art 371E allows for the establishment of a university in Andhra Pradesh by a law of Parliament. But this is not really a 'special provision'.]
KARNATAKA
(Art 371J, 98th Amendment Act, 2012)
There is a provision for the establishment of a separate development board for the Hyderabad-Karnataka region, the working of which will be reported annually to the Assembly;
there shall be "equitable allocation of funds for developmental expenditure over the said region";
Equitable opportunities and facilities" for people of this region in government jobs and education.
An order can be made to provide for reservation "of a proportion" of seats and jobs in educational and vocational training institutions and state government organisations respectively in the Hyderabad-Karnataka region for individuals who belong to that region by birth or domicile.
Reference
http://indianexpress.com/article/explained/simply-put-in-constitution-a-range-of-special-provisions-for-states-other-than-jammu-kashmir-too-4830520/
---